---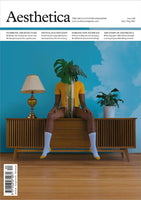 April / May 2021
100 Issues: Charting the Course
The past 12 months have been filled with a lot of noise. This pandemic has rocked us to the core. I've been experiencing a strange sense of nostalgia towards the first lockdown a year ago. I look at photos of the small things: the pet rocks we painted; visiting the "fun trees" near my house. It's oddly comforting.
We have all been changed by this experience, but there are some positive things to take away, such as the support for independents – films, arts, music, retail, coffee – you name it. I feel, now more than ever, that we need to spend time with and invest in independent culture. This moves me on to the fact that this is a special edition of Aesthetica Magazine. We are 100 issues old, marking 18 years of the publication.
Inside this issue we are celebrating this momentous milestone. You'll find a feature from me about how we set up this magazine in a small northern city in England – how it has grown to become one of the world's leading voices in contemporary art. We also have a spread of some of our favourite photographs over the years, accompanied by text about what makes each image so successful.
The other features in this issue exemplify the spirit of independence. We speak with curators worldwide including Cindi Strauss, Curator of Decorative Arts, Crafts and Design at Museum of Fine Arts Houston, and Sarah Schleuning, Curator of Decorative Arts and Design at the Dallas Museum of Art, for the show Electrifying Design: A Century of Lighting, which takes its starting point from the invention of the first electric light by British chemist Humphry Davy in 1808. Lighting technology has fascinated engineers, scientists, architects and designers globally, and has inspired periods of extensive creative expression.
Living in Nature, a new monograph published by Phaidon, considers the role that the organic world plays in contemporary architecture. Finally, be inspired with the photographers in Issue 100 – from fine art to experimental, there is a life-force of innovation and idea generation on each and every page. Thank you for being part of Aesthetica – supporting independent print and our talented artists.
We also look at Fotoclubismo: Brazilian Modernist Photography, 1946–1964, opening at MoMA in New York. It is the first major exhibition of its kind outside of Brazil, looking at São Paulo's Foto-Cine Clube Bandeirante. Yet again, this show asks us to question the canon and really probe who is included and why. We are also fortunate to feature inspiring photographers exploring isolation, identity and the future. The Last Words go to Anna Dannemann about the Deutsche Börse Photography Foundation Prize.