---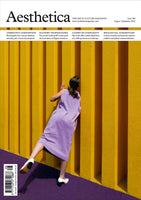 August / September 2022
The Power to Unite
Aesthetica is approaching 20 years old. It's hard to believe that so much time has passed. I was recently asked how I've continued for so long. It's easy. I love the fact that we can innovate, pivot and push ourselves in new directions all the time. This is a place where ideas are born. The magazine is a way for readers to convene, imagine and make sense of the present moment, at this critical juncture in history.  
Art has the power to unite. It is transformative. It takes us to new places, and introduces us to new cultures, but most importantly, it reminds us of our humanity. Much of this issue is about ever-changing landscapes: in both physical and virtual realms. It's surprising that when this publication started the internet was dial-up. I remember making my very first Amazon purchase, racked with trepidation. 
Now we are in a world where NFTs are commonplace and the metaverse is real. The dichotomy of both the real and the imagined is intense, but it's exciting at the same time. Somewhere Ethereal opens in Stockholm and showcases six of the world's top NFT artists in a gallery exhibition. It's so intriguing that, as humans, we always want to return to physical spaces – and the notion of "analogue" is never too far away. Next, we foreground Alec Soth, a photographer that has become synonymous with the American landscape. His images unite people and places, focusing on commonalities rather than difference.
In photography, we experiment with form, function and intervention, from curious still lifes to gripping environmental imagery. We feature Gjert Rognli, Erik Johansson, Alexander Grombach, Maciek Jasik and Borja Alegre. Our cover photographer, Tekla Severin, demonstrates a palpable understanding of colour.
Finally, we speak with Emeric Lhuisset about a powerful series of portraits he shot in Ukraine in March 2022, depicting citizens turned resistance soldiers. For this project, on at Musée des beaux-arts du Locle, he conceals the sitters' faces, waiting to reveal their identities when the country regains sovereignty.