---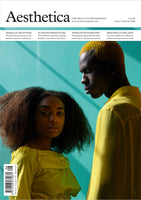 August / September 2020
Now is the Time
To say this has been an unprecedented time is an understatement. I started the April / May issue with those very words, but now, somehow, they have become vacuous. The world has changed. I have changed. For better or for worse, this is the way we live now. Sometimes, I feel like I'm in mourning. The loss we feel for all the things we left behind is extraordinary. It's the simple things – that we often take for granted – that have developed the most meaning over the past few months. Still, there are fleeting moments from lockdown that I will cherish. Sometimes there are no words to describe the extent of what we are going through right now, but we can take comfort in humanity's resilience over the last few months. 
Now is the time. This modest sentence is the driving force behind the August / September issue. It's a phrase that is bold and empowering. It is a call to action. Beyond lockdown, the economic downturn and the climate crisis, we must stand united in support of Black Lives Matter. As a global community, we must change. There is no place for racism in today's world. We must join together and fight against it. 
Inside this issue, we look at the forthcoming Zanele Muholi exhibition, due to open at Tate Modern, London, later this year. Muholi is a South African artist who transgresses the boundaries of race, gender and sexuality with a body of work that reclaims the lens for black lesbian, gay, transgender and intersex individuals. We interview Tate's curator to expand on the themes in this groundbreaking show.
We also survey artists who are harnessing technology to illuminate the severity of the climate crisis, in partnership with Google Arts & Culture Lab. These vital projects remind us of how every action has an environmental cost. We must learn to change and adapt to save the planet.
There is also a presentation of Next Generation photographers – a feature achieved in partnership with London College of Communication, University of the Arts London. In our image features, we showcase five names that move between fine art, digital renders, fashion and editorial photography.


Postage
Your magazine will be posted to you by Royal Mail. For UK orders, please allow up to 7 working days to receive your issue. For overseas orders, please allow up to 14 working days to receive your issue.