---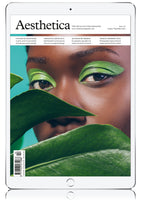 August / September 2023
Time on Earth
Storytelling is how we recall the past and imagine possible futures. There are stories we tell about ourselves and stories we tell about each other. Every layer adds more detail to the texture of life, and each experience expands the rich tapestry of our time in history. I collect memories and hold them dear. This helps to make sense of our experiences. We can reach each other on a visceral level, and remind ourselves of the commonalities we share as humans. This issue is about reflection, memory and choice. For me, some of the smallest decisions have turned into the biggest life changes, such as missing a train or going left instead of right. These moments mean something and there is always a bigger picture.
Inside this issue we meet Alex MacLean, one of the featured photographers in Civilization: The Way We Live Now, which is at the Saatchi Gallery, London. This landmark exhibition tracks humanity's ever-changing and complex systems across the world, through the eyes of 150 photographers. We also chat with Tomás Saraceno, who is making strides by blurring the lines between activism, art, ecology, engineering and science. Next, we speak with Aïda Muluneh, an Ethiopian photographer known for her powerful portraits, which use bold primary colours and show us the power of the female gaze. She speaks about the breadth and scope of her work, as well as future plans. Elsewhere, Kapwani Kiwanga uses colour and material to reinterpret history from a new perspective whilst questioning power structures.
In photography we feature Gleeson Paulino, JeeYoung Lee, Margeaux Walter, Maria Leonardo Cabrita,  Sarah Doyle and our cover photographers Estúdio Bingo. These fantastic lens-based artists take us on a voyage of discovery through surrealism and pop colours. Finally, the Last Words go to Curator Raúl Muñoz de la Vega about the Carrie Mae Weems exhibition currently on show at Barbican, London.