---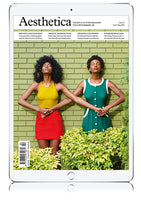 April / May 2020
Resilience
It goes without saying that these are unprecedent times. However, there is something to remember, and we should hold onto it – the human spirit! Great art changes lives. It takes you to new places and introduces you to a wealth of ideas. This issue of Aesthetica is a true celebration of humankind's resilience. 
I set up this company with Dale Donley in 2003 when I was 23 years old. I am an entrepreneur – since  starting to publish this magazine, the Aesthetica brand has grown to include an Art Prize, Creative Writing Award, Symposium and a BAFTA-Qualifying film festival. All of this has been such a rewarding experience. I am truly honoured to have spent so many years surrounded by so many creative people. 
Independent publishing has faced many challenges with digital, but we bucked the trend with print, using platforms like Instagram to reach new readers. We're a bit like vinyl – tactile and tangible – something that people still love. It's true, we have seen so many things happen over the last few years. The world has changed irreovcably since the noughties. There have been major societal shifts including a recession and the invention of the iPhone, widespread streaming and global social media use, as well as the rise of AI, VR and AR. We started working on this issue when coronavirus was largely on the periphery, but it has become ever-present in our lives. It's dramatically changing the course of history, but I know we will be strong. This issue is about pushing forward with ideas, together.
Inside, there is a selection of in-depth features and interviews, alongside some of the most exciting practitioners who are redefining the boundaries of contemporary art. Ekow Eshun's latest project, Africa State of Mind, is a publication that showcases work by over 50 contemporary photographers from the continent and its wider diaspora. Vitra Design Museum presents Home Stories, which surveys the last 100 years of interior design – looking at how the house has evolved into a home. This issue is bursting with inspiration. We could all use a bit of joy at the moment, so I hope you find some here.