---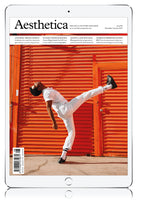 December / January 2021
A New World
Here we are, at the end of one year and the start of a new one. We've all changed a lot: there's so much we've been through and learned together. Technology has become further integrated into daily lives – and we use it for pretty much everything – mostly because we do not have a choice.Fear has also played a big role in 2020. Back in March, the idea of being in lockdown was alarming, even frightening. It's a bizarre cultural shift to be nervous to touch a door handle in a public place or to brush past someone on the street. I am nostalgic for the days before the pandemic, and I want them back. However, we must remember: we are nearing a vaccine. Beyond this, there is a huge amount of relief and joy to be found knowing Trump will be gone from the White House. It's enough to end an incredibly tough year and tie it with a bow, starting 2021 with hope. That is a wonderful feeling.
Inside this issue we look at NGV Triennial in Melbourne. It's a large-scale exhibition of international contemporary art, design, fashion and architecture. Featuring more than 100 practitioners from more than 30 countries, this year's presentation asks us to consider the world as we know it, but then think carefully about what we'd like it to be in terms of representation and inclusivity. This is a crucial moment of change and opportunity. We also speak with Hassan Hajjaj – known as "the Andy Warhol of Mar- rakech" – about identity politics. Through his wonderfully detailed images, we are able to reframe im- portant narratives. Suzanne Moxhay, an Aesthetica Art Prize finalist, speaks to us about blurring the lines between interior and exterior; nature and technology. These images grapple with idealism and dystopia.
In photography, Alia Ali, Kate Theo, Eugenia Falqui, Markus Guschelbauer, Ismail Zaidy and Natasha Wilson question our relationships with both the natural and manmade world – and by extension – our perceptions of each other. There is so much to learn here. Finally, the Last Words go to Magda Keaney, Curator at the National Portrait Gallery, to discuss this year's Taylor Wessing Photographic Portrait Prize.