---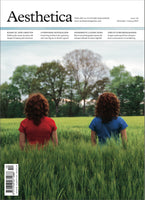 Sale
Free Issue | Issue 110

Aesthetica is a bi-monthly publication, covering the latest news in contemporary art and culture from the UK and across the world. The magazine highlights key artists who are redefining the boundaries of contemporary art. We look at both established and emerging practitioners, through editorial features and stunning imagery.
With this offer, you will receive a free copy of Issue 110: The Art of Storytelling (+p&p, while stocks last).

This issue is dedicated to weaving narratives. Liam Wong highlights the beauty of the night and the intersection between reality, technology and science fiction. His latest book, After Dark, investigates global cities at night. Wong says: "I want to take real moments and transform them into something surreal to make the viewer question the reality depicted in each photograph." We speak to Tyler Mitchell about the fluidity of fine art and fashion photography, as he seamlessly traverses both worlds, alongside the impact of being the first Black photographer to shoot a cover for Vogue. Mária Švarbová's swimming pools and brightly coloured caps follow a tradition from Seurat and Hockney, but by using architecture and light, she tells stories and memories of spaces where we can all find glimpses of serendipity.
In photography, we bring you works from Alexis Pichot, Henri Prestes, Miguel Vallinas Prieto, Priscilla Ong and Mónica Alcázar-Duarte. Each photographer takes an instant in time and turns it into a moment of introspection. Our cover artists Elsa & Johanna experiment with portraiture by reconstructing family memories. Finally, Last Words go to Doug Aitken, where he discusses his new book, Works 1992-2022.
Postage
Aesthetica is based in the UK. Your order will be posted to you by Royal Mail. For UK orders, please allow up to 7 working days to receive your issue. For overseas orders, please allow up to 14 working days to receive your issue.