---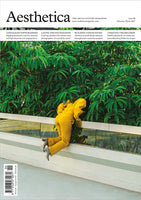 February / March 2021
Trailblazers
Have you ever had a song stuck in your head for days, weeks, even months? Throughout this time period there have been a few that have stuck with me, In My Life by The Beatles, Sinnerman by Nina Simone and Take Me Home, Country Roads by John Denver. All of these songs must be 50+ years old, but they resonate with me, perhaps because they are all about memories, time and place.  
We're coming up to one year living in a pandemic. The global experiences of Covid are near immeasurable. For those of us who have never had the virus, or those who have had it and recovered, there must be a moment of reflection to appreciate just how very lucky we are. To all the families grieving for lost loved ones: I can't even begin to understand your pain. For all the people who have been affected by loss of work, or for businesses that have had to close down: I am so genuinely sorry. 
This life-changing virus has altered everything about the way we live and interact, think and engage. I am a glass-half-full kind of person; I guess I was born that way. I know that our lives will be marked by this forever, but when we come out the other side, we will be stronger and more resilient.  
This issue features the work of several pioneers, innovators and trailblazers. We speak with Gulnara Samoilova about Women Street Photographers, a new book published by Prestel. We start off by looking at the canon of street photographers and notice how women are missing from this list, or those only added posthumously. Samoilova is using social media to propagate a new narrative.  
We also look at Fotoclubismo: Brazilian Modernist Photography, 1946–1964, opening at MoMA in New York. It is the first major exhibition of its kind outside of Brazil, looking at São Paulo's Foto-Cine Clube Bandeirante. Yet again, this show asks us to question the canon and really probe who is included and why. We are also fortunate to feature inspiring photographers exploring isolation, identity and the future. The Last Words go to Anna Dannemann about the Deutsche Börse Photography Foundation Prize.