---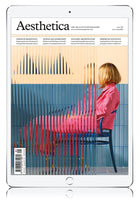 June / July 2021
Recharge & Reset
As I sit down to write this, I have so many things that I want to say. For the moment, it is starting to look up. We are able to see each other again, sit inside and have a meal, go on holiday and to the cinema, but I don't want to get carried away. I am thrilled that this could be the start of the return back to life as we knew it, albeit the improved version. The only word that comes into my mind when I think of this pandemic is: astonishing. You need distance to even begin to understand the enormity of the situation. Now that 15 months have passed since the first lockdown, I recall moments of fear, anxiety and loss.
Inside this issue we look at artists and curators who are initiating change, and bringing important and critical works to light. We're keen to survey these shows and bring the widest possible points of access to the works. In Underexposed: Women Photographers from the Collection at High Museum of Art, Atlanta, more than 100 images, many which have never been on view, are brought out for audiences to enjoy. The artworks highlight the contributions of women throughout the history of photography, spanning from innovators to present-day practitioners who investigate the intersections of image-making, representation and identity. We speak with South African artist Robin Rhode about his wide-ranging practice. He is best-known for large-scale public wall drawings, in which figures interact with objects, vehicles and architecture, or abstract geometric patterns. Kristin Bedford's new photo book, Cruise Night, pulls back the curtain on LA's Mexican American lowrider car culture, tackling misconceptions and celebrating the uniqueness of this community through its modes of expression.
In photography, we present the works of Natalie Christensen, Kristina Varaksina, Kelsey McClellan and Mue Studio, as well as the paper art and science of Matthew Shlian, and Tekla Severin on the cover. These works are pushing the boundaries of what photography should and can be. That is beyond exhilarating!