---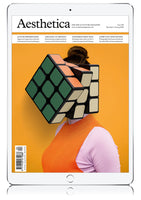 December / January 2022
Galvanise
There is so much happening right now. It feels like everything is moving at a cataclysmic speed. For 20 months, Covid has dominated our lives. The impact of this will be felt for many years to come, because we can only start to make sense of what's happened with time and distance. We heard governments say that we will build back better, but I am doubtful that we will see real change. I am terrified by the climate crisis and the long-term impact it will have on the planet and humankind. I keep trying to figure out a way that we can galvanise in order to reach people on a local level. How can we get more people to care?  
 Moreover, how can we get more people to change? Some of these changes can be so simple, like cutting down on meat, walking instead of driving short distances, turning your thermostat down. If millions of people did this, say, starting tomorrow, the impact would be huge. Creating a community that takes shared responsibility is one of our biggest challenges. How can we set this idea in motion?
This issue is dedicated to perseverance, resilience and determination. In the face of anything, we do have the power to change. David Benjamin Sherry's large-format images of the American west examine endangered monuments in aftermath of the Trump administration. Meanwhile, Foto/Industria's photography biennale offers a look at industrialised farming, and its impact upon global consumption processes. Then we explore deep geological time in the works of Noémie Goudal, who foregrounds the larger narrative of Earth's 4.543-billion-year lifespan, combining elements of palaeoclimatology and art.
In photography, we are thrilled to present further series from Ingrid Weyland, Kevin Krautgartner, Kate Theo, Karen Constine and Harriet Moutsopoulos on the cover. The last words go to Jennifer Blessing and Nat Trotman, Curators of Photography, and Performance and Media respectively, who speak in detail about identity as part of Wearing Masks, the new Gillian Wearing show at Guggenheim, New York.