---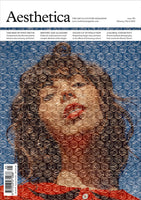 February / March 2022
Points of View

Perspective changes everything. Seeing and looking are two completely different acts. How we understand the world around us depends on our experiences and willingness to be open to new ideas. This creates a free flow of concepts, and in turn, this leads to innovation. I've been doing a lot of reading about early humans, and there is something so completely wonderful about the first time homo habilis used a stone, turning it into an axe. It's this continuous quest for knowledge and an insatiable appetite that asks, "I wonder what's beyond that hill?" which keeps us creating. I find the human story awe-inspiring, but with a developing sense of curiosity we've let our guard down with respect to our social and environmental duties. It's such a ubiquitous conversation, but I wonder if we will ever adapt and change? 
This issue is about idea generation and a developing a greater sense of perspective. In As We Rise, a new collection of Black photography, we take a look at images that celebrate the lives and stories of Black people through the careful curation of Kenneth Montague. He recounts a transformative trip to the Detroit Institute of Arts at the age of 10, seeing James Van Der Zee's The Couple in Raccoon Coats, Harlem (1932): "They were in front of their home, a Harlem brownstone in the 1930s, and they were just impossibly sophisticated. I just had never seen African Americans depicted like that. It changed my life." Next, we speak with Mandy Barker about her photography of plastics. The works are extraordinarily beautiful until you realise the atrocity behind them. Barker communicates the extent of the waste age.
In photography, we bring you inspiring images across fine art, photomontage, portraiture and digital rendering, with practitioners such as Ellen Jantzen, Thomas Jordan and Zhang Ahuei. Our cover photographers, Laura Perrucci and Matteo De Santis, play with intervention in image-making. Finally, the last words go to the new Yorkshire Sculpture Park Director Clare Lilley about a Robert Indiana exhibition.