---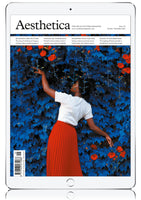 October / November 2023
Transforming Ideas
What's an idea and where does it come from? We all know there's a lot of noise in society right now, and sometimes it's hard to find the time to think beyond the moment. The biggest challenge I have is figuring out how can I carve out space to muse. There always seems to be something urgent to do. I talk about the human story a lot and I have visited many palaeolithic sites – places that were inhabited by people 35,000 years ago. It's extraordinary to learn from the drawings they left behind, and the stories of humanity, creativity and the desire to make your mark. However, there's one thing that I do know: an idea leads to another, and another, and another. Fast-forward to the present-day and here we are in a world that is defined by innovation. This issue of Aesthetica is a veritable love letter to idea generation. 
Inside this edition we speak with Iwan Baan about his genre-defining architecture photography and new show opening at Vitra Design Museum. You'll be familiar with his images, as they document the growth of global megacities and showcase buildings by today's renowned architects including Herzog & de Meuron, Rem Koolhaas and Zaha Hadid. Elsewhere, we look at Micaiah Carter's new book. He has become known over the past decade for capturing youth culture and street style. His works are authentic, delicate, stylised and have come to define a new era in contemporary portraiture. Next, we are pleased to catch up with an Aesthetica Art Prize alumnus, Ellie Davies, who has recently launched a series that fuses imagination and environmentalism. Lastly, we chat with Tamara Dean about play and expression. 
In photography, we explore the boundless possibilities in image-making with Anna Laure Étienne, Elsa Bleda, Justin Bettman, Laura Stevens and Simon Norfolk, alongside our cover photographer Fares Micue. Viviane Sassen's Last Words are about her retrospective at Maison Européenne de la Photographie, Paris.