---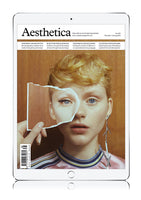 December / January 2019
I think about Radiohead's Idioteque often. Considering it was written just as we moved from the 20th to the 21st century, there is so much meaning that still rings true today, nearly 20 years later. It's easy to look at the world and get cynical. The rate and acceleration of change is hard to comprehend. I also think about cultural anthropology – everything that has happened to get us right here, right now. We are constantly developing as humans, but this progression isn't always as ground-breaking as starting to use tools or developing language. Rather, we are evolving emotionally. Thanks to technology, we can readily have anything that we want – from ordering dinner and groceries to streaming entire television series in one binge experience. We no longer have to wait for anything, so what does this mean for our humanity? What does it mean for patience, kindness and courtesy? How will this affect the world in 100 years' time? 
Within the same breath, I marvel at what technology has done for us and how it has transformed the ways in which we live. I have a two-year-old daughter and the thought of having to go to the bank to withdraw money, drive to the supermarket and then do the shopping seems a million miles away. The time I get back through online commerce is revolutionary and almost priceless, and for that I am grateful. Still, it has been months since I even set foot in a shop, and there's also something a little strange about that fact too. 
This issue is very special; through our features and editorials we are diving into bigger subjects head on; Lust for Light looks at the technical and philosophical meaning of light art as a medium in its own right. We also highlight the 2018 Foam Talent Call, which includes 20 photographers you should know. Meanwhile, Phaidon's Living in the Desert surveys buildings in some of the most inhospitable landscapes on earth. 
In photography, we present seven outstanding practitioners whose works are redefining genre. Architecture, immersive design and portraiture are included, traversing fine art, CGI and fashion. Finally, Gabrielle Motola discusses collaborative inspiration and the essence of the road trip.