---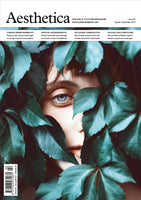 August / September 2019
There has never been a time in human history when things have been so interconnected. The climate crisis is connected to the economy, which is in turn connected to trade and tariffs, and so on and so forth. We are living in an age of alternative facts, fake news and misinformation. We are more divided than ever before, and politicians use populism to disintegrate battles won for justice and equality. Watching programmes like Years and Years or The Handmaid's Tale fills me with fear because I think: are we really that far from this? Could these dystopian fictions become reality? 
Inside this issue, we bring you the latest from Parley for the Oceans. This is a fantastic non-profit organisation that is serious about eradicating single-use plastic and saving the seas. It has teamed up with artists, fashion brands and designers worldwide to make positive change. There is no need to buy water all the time; carry an empty bottle. The same goes for coffee cups. We could cut down on landfill waste considerably through these simple measures. Looking further back, it has been 30 years since the fall of the Berlin Wall. Ute Mahler and Werner Mahler have a retrospective coming up at Fotomuseum Den Haag, which looks at their work in the former GDR alongside more recent pieces. The show is compelling because surveillance was part of everyday life for these photographers. It's interesting to note the similarities between then and now, given the level of voyeurism and observation in today's world. We must ask important questions about privacy and boundaries.
The following photographers are featured inside this issue: Kyle Thompson, Kyle Jeffers, Sebastian Weiss, Rebecca Reeve, Studio Brasch and cover photographer Alessio Albi, alongside our annual feature, Next Generation, completed in partnership with London College of Communication, University of the Arts London. This is your opportunity to see the breadth and scope of new work being produced today. Finally, Nina Wiedemeyer, Curator from the Bauhaus-Archiv, gives us the last words.