---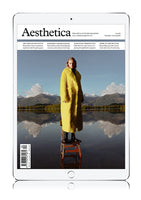 December / January 2019
Innovation keeps me going. I feel so very honoured to see so many wonderful artworks on a daily basis. It gives me inspiration. It takes me to new places, teaches me, makes me laugh and cry. Constantly, I am reminded by the shared experience of what it means to be a human being in 2019. 
We all know that the world has transformed, yes, through technology – and with it comes the idea of progress – but I've started to think about progress and what really defines it. We can communicate with anyone, anywhere – but the constant desire to check your phone from the minute you wake up until the minute you go to bed doesn't come without repercussions. Once we move into 5G, this is the future.
We are evolving emotionally. This can't be understated in terms of how this will affect humanity – and future generations. Politically, the world has been in turmoil since 2016: the year of the Referendum and Trump making his way into the White House. We've seen and heard things that shouldn't be happening. This is the 21st century – a time of progress. We shouldn't be seeing women's rights surrounding their own bodies being revoked, and the climate crisis being denied. It's supposed to be better now, right? 
This issue of Aesthetica invites you to engage with the key themes of our times. The artists included are making sense of the world through new visual narratives. Doug Aitken's latest installations explore the space between physical and virtual worlds, commenting on the ways that communication has changed. Eva Vonk and Pieter Henket consider the role that the Congo Basin plays within the wider geological balance, drawing attention to the importance of oral culture, history and tradition.
In photography, there are seven outstanding practitioners who present bold and exciting series. They question the idea of home and identity, highlight the beauty of everyday objects and play with the notion of anonymity. Finally, the Last Words goes to Sarah Cook, Curator, who discusses Somerset House's latest exhibition, 24/7. The show looks at our non-stop world and asks us to pause.