---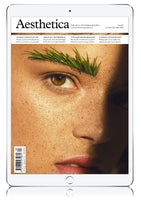 October / November 2020
Rebirth and Renewal
Here we are, six months after lockdown. There has been some return to normality, but we cannot go back to how it was before. Moreover, do we want to go back? I'm referring to some of the changes that we have made for the better. There are less people flying – this is undoubtedly a positive step for the planet. We've adapted to a model of blended home plus office working, which addresses the work / life balance. I was fortunate during lockdown because I spent some precious moments with my daughter just before she started school. It's best to survey the positives before the negatives. There's a lot to appreciate.  
The world is in a worrying state. We must fear the rise of the far right and do everything we can to stop populism. We are living in a precarious moment where the very idea of democracy is being threatened. There are people who are willing to give it up so easily. Trump's "Make America Great Again" is a pointless and meaningless statement, however, it's whipping up right-wing groups globally. The idea that an armed militia can turn up at a peaceful protest and start shooting people is the stuff that Philip K. Dick was taking about in The Man in the High Castle. I can't help but think about that book as I watch the news. We must stand up to inequality and insist upon change for a more just society. We cannot give up.  
 Inside this issue, we feature a series called Last Meal by the American artist and activist Jackie Black. She recreates the last meals of inmates on death row in Texas. These images are so stark and haunting for all the things that they do not show. This series is a protest and a conceptual masterpiece. We also look at the Leica Oskar Barnack Award, which presents some of the most exciting new voices in today's photographic landscape. Phaidon releases a new title called In Memory Of  which considers the challenges of designing contemporary memorials in an age of global conflict, isolation and terror.
 We also bring you six fantastic photographers, whose work spans a multitude of genres, styles and forms. These features question and disrupt the wider status quo. Open up, dive in and please enjoy!