---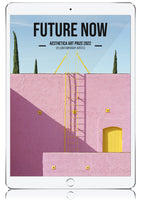 Future Now 
Aesthetica Art Prize 2022
125 Contemporary Artists

Art is a tonic. It is an elixir. It can reach people in a more holistic and visceral way. It contributes to our wider sense of well-being; it connects people, places and communities, and helps us to make new discoveries whilst challenging the status quo. Art is the mechanism by which we can make sense of the world. If there has ever been a time that we need art in our lives, it is now. This cannot be taken for granted. The power of art is universal, and it reminds us of our shared sense of humanity. 
Over the past two years, we have witnessed radical shifts in the ways that we live, communicate, work and play – as well as how we travel, socialise and experience the joys of culture. The Aesthetica Art Prize is an annual celebration of contemporary art. This book brings together 125 artists, who invite you to engage with pressing themes from our rapidly changing world. These wide-ranging topics include the ethics of representation, digitisation, globalisation, diasporic identities and the climate crisis.    
This year's Prize collates artworks that address these notions; these practitioners present information to us whilst questioning our very modes of communication and connection, as well as experimenting with new techniques. We welcome artists from a myriad of countries, including Argentina, Germany, Japan, Norway, the UK and USA, whose media span painting and drawing; photography and digital art; three-dimensional design and sculpture; installation, performance and video art.