---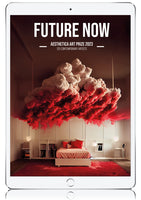 Future Now 
Aesthetica Art Prize 2023
125 Contemporary Artists

This anthology is the litmus test of our times. The 2023 Aesthetica Art Prize brings together 125 artists who offer creativity as a form of expression, with projects spanning the boundaries of genre – from painting, photography and sculpture to installation, mixed-media, video and digital. These works survey pressing themes from our ever-shifting world – from the all-encompassing nature of technology to the challenges brought by the climate emergency and the residual legacies of colonialism.
Our world is changing at cataclysmic speed. Art is a way to make sense of it all. The impact creativity has on society is profound. It's transformational and invites conversations that challenge our thinking and encourage us to take positive risks. Art offers hope and solutions to problems that are bigger than any one individual or country. We can use it to reach new heights of understanding and incite change.
Art is a way to make sense of the here and now at this critical juncture in history. Here, we see practitioners take the temperature of the current world and offer a new set of solutions to contemporary problems. This year's book is a place to unite and join together through the power of art. We welcome creatives from across the world, including Australia, Japan, Netherlands, Ukraine, the UK and USA. Inside, you will discover ground-breaking ideas that imagine a future with boundless possibilities.