---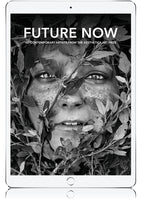 Downloadable Digital Version
A celebration of innovation and originality, the Aesthetica Art Prize anthology compiles an international community of established and emerging artists. Entering its 9th year, the award and accompanying annual invites audiences to connect with some of today's leading practitioners whose projects touch upon key cultural, social, political, environmental and economic themes within the categories of Photographic and Digital Art, Painting and Drawing, Three Dimensional Design and Sculpture, and Video, Installation and Performance.
From ecological concerns to transitions in urbanisation and developments in technology, the 2016 edition provides a cohesive commentary on the way that we inhabit the Earth. Questions of material and personal value align with definitions of virtual and physical realms; depictions of natural landscapes defy tangible realities; and an awareness of time is envisaged in elements of light and sound.
This year's dynamic collection, which unites 100 artists from countries worldwide including Austria, Canada, Germany, Israel, Japan, Mexico, Poland, South Africa, the UK and the USA, is an outstanding resource and prime example of the calibre of works submitted to the Prize. Ranging from site-specific installations to new experiments with light and digital technologies, the 2016 selection instils an enduring reflection on humankind's role in the present moment.