---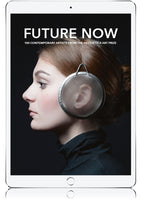 Downloadable Digital Version
Recognising both innovation and creativity, the Aesthetica Art Prize anthology showcases captivating projects from some of today's leading artists, both established and emerging, across four categories: Photographic & Digital Art; Painting, Drawing & Mixed Media; Three-Dimensional Design & Sculpture; and Video, Installation & Performance.
From individual narratives to global concerns, the artworks comment on contemporary culture and explore themes such as alienation in the digital age, the intersection between public and private spaces, sensory experiences and the transient nature of life in the 21st century. As the boundaries between the public and the private begin to merge into blurred depictions of reality, contemporary art is a mechanism that enables us to respond to a renewed understanding of living.
The 2017 collection unites 100 artists from countries worldwide, including Australia, Austria, Brazil, Germany, Canada, the UK and the USA, providing an outstanding selection from over 3,500 submissions and a glimpse into the shifting landscape of creative expression. Through data maps, re-purposed sculptures, large-scale installations and conceptual negotiations of colour, this year's Prize provides a diverse and emotionally responsive selection that looks to the future and reassesses the very notion of existence in an unprecedented time.