---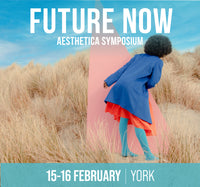 Future Now Symposium 2024
15-16 February | Yorkshire Museum, York
Debate | Discuss | Connect
#FutureNow2024
The Future Now Symposium brings together award-winning artists who engage with themes from our changing world, such as: the ethics of representation, curation, AI and new technologies, diaspora and threats posed by the climate emergency.
This two-day event connects key institutions, galleries and artists to energise our minds and invite dialogue around the most pressing topics from the creative sector. Some sessions include: Curation in the 21st Century: How to Make an Exhibition?, Photography in Focus and Creativity in a Digital World: The Impact of New Technologies.
Future Now is a platform for idea generation and a key event in the UK arts calendar. The 2024 edition asks: what does the future of curation look like? How do I develop my career as an artist? Where is photography headed? Is AI really a threat to creativity? What does it mean to make art that is caught between multiple places, times and genres? What is the intersection of science, anthropology and photography?
Key Speakers Include:  
Steve Messam, sculptor working on major projects for the National Railway Museum, National Trust, Milan Design Week and Venice Biennale.


Heather Phillipson, Turner-prize nominee whose multimedia projects include video, sculpture, installation, music, poetry and digital art.


Sougwen Chung, one of TIME100's Most Influential People in AI.


Marcus Lyon, British artist whose socially charged works on globalisation can be found in the collections of Smithsonian, Art Institute of Chicago and Arts Council.


Margaret Salmon, known for creating award-winning filmic portraits and has exhibited at Venice Biennale, Whitechapel Gallery and ICA.


Julianknxx, Sierra Leonian poet, artist and filmmaker will speak about song and music as forms of resistance, and what it means to make art caught between multiple places, times and genres.

This is a great way to expand your network, gain valuable feedback on your work and hear from sector leaders. You will be able to access to the world's leading curators, gallerists and artists. Gain career advice, network as well as portfolio reviews. Participate in one of the UK's most engaged arts events 
The Future Now Symposium will take place at:
Museum Gardens, Museum Street, York YO1 7FR. 
Ticket Types
Thursday One Day Pass | £50


Attend a full day of in person talks in York
Complementary lunch
1 x Portfolio Review included
Valid 15 February 2024

Friday One Day Pass | £50


Attend a full day of in person talks in York
Complementary lunch
1 x Portfolio Review included
Valid 16 February 2024




Two Day Pass | £75


Attend two full days of in person talks in York
Complementary lunch
1 x Portfolio Review included
Valid 15 & 16 February 2024

Additional Portfolio Review | £25
(Thursday or Friday)

1-1 sessions suitable for all artists
Discuss your portfolio with industry experts
Receive essential guidance 
First review free w/ one or two day pass
Additional in person sessions bookable for £25
Speakers & Timetable
For the full list of Speakers, please visit www.aestheticamagazine.com/future-now-symposium