---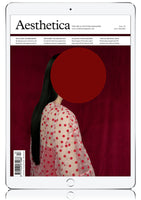 June / July 2023
History & Ecology
In order to understand the past and present, it's important to look at some of the key turning points in human history – from the use of fire and the development of agriculture to the printing press and the internet. Humanity has constantly been moving forward. Now, we find ourselves in a new era defined by artificial intelligence. Since the release of ChatGPT 4, the reality of a world with AI is more present than ever before. Knowledge and curiosity are the two driving forces of innovation, and this is the aspect of AI that worries me the most. If a computer can pass a bar exam, write a novel and make artwork, then we must talk seriously about what this means for the future of ideation. We've seen what can happen with social media when it has been used to control and influence political outcomes. We must learn from the past two decades of technology to move forward. This is a watershed moment for society as a whole.
Inside this issue we survey Ori Gersht's work in an in-depth feature that discusses the three main revolutions: industrial, scientific and digital. He is well-known for his painstaking recreation and subsequent destruction of classic paintings. Meanwhile, Djeneba Aduayom's multidisciplinary work considers the contradictions between the natural environment and human behaviour. We also take a close look at London's new contemporary art venue, The Beams, which creates immersive experiences through technology's ability to prompt complex and visceral emotions. Julian Charrière's documentation of polar regions examines large-scale human intervention in the landscape inciting an urgent call to action.
In photography, we bring you the latest series from some of the most engaging practitioners today including Alexej Sachov, Cody Cobb, Rune Guneriussen, Sarfo Emmanuel Annor, Viet Ha Tran and our cover photographer Cristina Coral. They ask us to look at the natural world in new ways. Finally, the last words go to John Mack, who asks questions about digital futures at this year's London Design Biennale.